Height: 6'0''
Wingspan: 6'5''
Weight: 185lbs
Bday: 11/12/1992
Team: Michigan
Class of 2015 (Sophomore)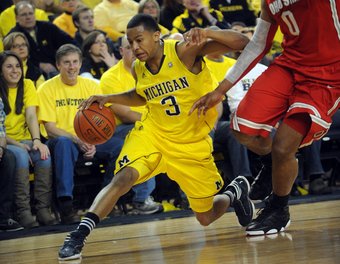 Trey Burke stepped in his freshman year at Michigan with big shoes to fill. He had to replace Darius Morris at point guard who left early for the draft. Burke exceeded all expectations and not only filled Morris' spot, but arguably filled it better than Morris himself could do.
John Beilein runs a very team-oriented and complex offense in Ann Arbor. The aforementioned Darius Morris struggled his freshman year adjusting to it - only average 4 points in over 20 minutes of player. That is not unusual for a young player in such an advanced system. Morris eventually got the hang of it and showed remarkable improvement in his second year which led to him coming from nowhere to being an early entry candidate.
Trey Burke isn't going to sneak up on anyone this coming year following a season where he averaged 15 points and nearly 5 assists. Beilein ended up trusting Burke so much that he added in plays for him that were more pro-style oriented as opposed to Beilein's usual strict offensive system. Burke responded by leading the Wolverines to a #4 seed in the NCAA tournament before being upset in round 1 by Ohio. That game cooled off Burke's stock and could be the main reason why he is back for a second go at college basketball. Burke has been busy this summer, participating in the LeBron James Skills Academy and drawing rave reviews as perhaps the best point guard there. And what may have helped him even more was that he was measured with a 6'5'' wingspan - which is solid for a point guard.
Burke's game is very mature for his age. As I touched on already, he has a very high IQ and learns quickly. He reads defenses well and has been very competitive dating back to the days where a pre-teen Jared Sullinger and him battled all day long in various competitions. The coaching by the elder Sullinger also helps explain why Burke already plays like a battle-tested senior.
All the intangibles with Burke are there. He plays tough and with a great motor. He enjoys trying to get rebounds and managed to get over 4 rebounds per 40 minutes when adjusted for Michigan's slowed down tempo.
Michigan's tempo is something you need to keep in the back of your mind when looking at Burke and the rest of the Wolverines. They don't get as many possessions per game which brings their numbers down to earth. But if you look at Burke's 40 minute pace adjusted stats, he averaged 17.7 points and 5.5 assists.
Scottie Reynolds
Terrell Stoglin
Kyrie Irving
Derrick Rose
Dominic James
John Wall
Nick Calathes
Those 7 names are the only guys who scored and assisted more than Burke during their freshman year at a Big 6 school (since 2001). Burke did this playing next to Tim Hardaway who can be hard to play next to as a point guard.
Burke creates his offense with deceptive quickness and a great understanding of the game. Burke does his best off the pick and roll. He is quick, but his first step isn't top notch so he does better when he has space to get a running start. After his first step, the following steps are elite. Not because of the speed of them, but because of the different ways he can attack. He stays under control and can easily pull up for a jumper or take it to the rim. Burke has great body control and has a body that is able to absorb contact. His mid-range jumper is good, although overall he tends to shoot his jumper on the way down. He does a great job shooting off the dribble. He likes to use one or two dribbles to get his feet underneath him and then pull up. With his size, he should quicken up his release some. He doesn't have deep range on his jumper, but did shoot 35% from the college 3 on five attempts per game. It will be interesting to see how that translates to the NBA line. I don't think he will step into the NBA right away and be a big threat from downtown with his current mechanics.
Burke is a good athlete, but not great and far from the elite tier of the Westbrooks, Walls, and Roses. The combination of his size and lack of elite athleticism will be his biggest red flag when it comes time for him to be drafted. It is a legitimate concern, but it is not a death sentence. Jameer Nelson, DJ Augustin, Isaiah Thomas, Jose Calderon, Darren Collison, and others have all overcome similar questions.
Burke is quick and fast once he gets up to speed, He is also strong and has arms that help make up for his short stature. He may also have the best basketball IQ of any of the aforementioned players, although Augustin and Collison both ran a team very well in college. He has the strength, smarts, and competitiveness that will help him overcome his size.
Although Burke doesn't get a lot of transition opportunities, Burke is equally good running the break as he is in the halfcourt offense. He can push the ball and is able to throw nice lead bounce passes to his bigs that get out and run. His lack of explosiveness makes him more of a passer in these situations as he isn't a one man fast break ala John Wall, but he is effective.
Burke is also extremely shifty in the halfcourt game to go along with his ability to change speeds and excellent body control. His play inside the 3-pt line is wonderful. He needs to finish better, but that is nitpicking. He tends to leave shots short on the rim. A deadly floater is a very realistic option for Burke. He will have to find other ways to finish amongst the trees and Burke's great control should allow him to develop the floater with more repetitio. He already uses one, but it isn't automatic. Also, part of what makes Burke a good driver is his fearlessness and relentlessness.
Burke is not scared of contact inside. He doesn't go to the line at a great rate though. He also is only an average free throw shooter, sitting on a 74% mark last season. Burke is able to find teammates off drives, but sometimes when he doesn't have a clear lane to the basket, he can dribble with his head down while looking to figure out a way to get to the hoop. That is part of Burke's relentlessness attitude, as he won't be denied penetration. I am not saying he forces things, but he will overdribble at times and lose the ball. And then there is the head down thing when he is trying to find a look at the rim.
Defensively, Burke should continue to add strength to his already solid frame in order to keep taller guards from posting him up. That shouldnt be much of a problem. His length and competitiveness projects him to be a solid defender, although his athleticism prevents him from being a plus defender and play maker. He willingly will help out on the boards.
Overall, Burke is a true point guard who is smart enough to adapt to the NBA game and figure out how to be successful. He has visible question marks that will prevent his stock from elevating to high, but I think he should find his way into the first round. Anywhere between 16-30 sounds reasonable. Michigan should be a contender with Burke and Hardaway in the backcourt and McGary and Morgan up front. They need to find some shooters too replace Novak, Douglass, and Smotrycz though. The biggest worry Burke should have is less floor spacing this year. That is something to look for as they lose three shooting specialists and replace them with Mitch McGary who operates strictly in the paint. Should be an interesting test. Without the upperclassmen, Burke will also have an opportunity to stand in as more of a leader, something I doubt he will have trouble with.
Burke tested the waters last year so it seems likely that he will declare with the intentions of staying in this season.