Jordan Theodore is heading to Turkey fresh off his senior year at Seton Hall, a school that saw him progressively get better, cultivating in him averaging 16.1 points and 6.6 assists in 2011-12. He played for a Seton Hall team that went through some tough times during his stint there - from the firing of controversial head coach Bobby Gonzalez to the dismissal of two of his teammates - but Theodore was a mature and steady presence throughout his entire career.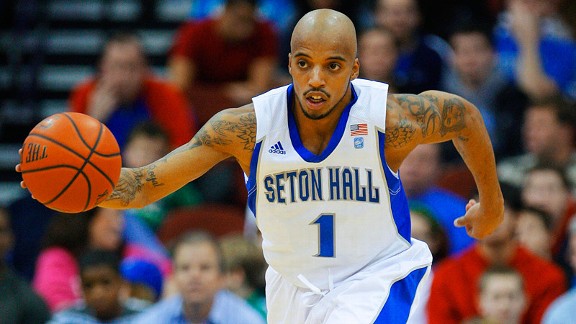 Theodore is someone you can rely upon to run your team and be a leader. He is a prototypical pass first point guard and understands that will be his role in the professional game. At Seton Hall, he showed the ability to run the pick and roll very well, creating plays for both him and his teammates. He has good quickness and flawless handle with either handle and is able to change up speeds, setting himself up for a solid mid-range jumper. During his senior year, he was 8th in the entire NCAA in assists.
Theodore didn't get many looks for the NBA, but he did attend the Portsmouth Invitational (a scouting event for college seniors) and the group workouts held at the New Jersey Nets' facility (he was a last second invite there). The reviews he received were fairly positive, but the bottom line is Theodore can blend in too much out there. He is too small and lacks great explosiveness, part of the reason his FG% is consistently low, while also lacking great range on his outside shot. He does have a decent 6'4'' wingspan and a mature, well developed body that has made him a solid rebounder and defender.
Overall, Theodore will make his teammates around him better and provide a calming presence among his team. He was never able to be a great winner in college, but he certainly has the qualities to lead a good team with quality players around him. His pick and roll game will excel in the Turkish Basketball League.