Height: 6'0''
Wingspan: 6'3''
Weight: 178lbs
Bday: 2/17/91
Team: Missouri
Class of 2014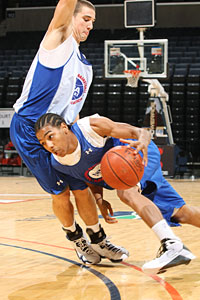 A young Pressey rocking a different looking. Truly defining how to "get low"
Coming into his sophomore season at Missouri, Pressey had full control of the point guard position and his game in almost every statistical category. His shooting from all areas of the floor improved, his assists and rebounds went up, he cut down the turnovers and fouls, and nearly doubled his attempts at the free throw line. Most importantly, Pressey was the leader for one of the best teams in a country and a team that was known for unselfishness and excellent chemistry. Pressey had great teammates around him, but he embodied all positive characteristics and did a great job making plays for the other three guards on the court.
Let's ignore Pressey's size at first and examine his college game. Right now, he may be the most talented returning college basketball player and he's still only going to be a junior. It is high praise, but very much earned. Pressey played entire games last year where he was virtually perfect. He defended the entire court, made terrific passes, hit his jumpers, and controlled the tempo. Lots of times it seemed like he could do whatever he wanted out there.
His unselfish play and understanding of the pick and roll offense are two things that bode well for him when projecting his NBA future. Pressey always looks pass first. He can dominate a game without taking a shot and will if you let him. He takes advantage of Mizzou's uptempo offense for assists, but also know how to operate in the halfcourt. In the pick and roll offense, he is deadly. He is so small that he is able to split defenders and he changes speeds perfectly. He can move around into the lane at half speed, just because of the threat of his blow-by potential. He has a good feel for where defenders are playing him and uses his small frame as well as he can when he has a defender on his back after driving off a pick. When he is doing his damage in the lane, he is almost always under control. The only issue with Pressey in the pick and roll is his own ability to finish.
Pressey displaying a NBA "arm bar"
Pressey shot just under 43% from the floor last year, which was actually up from his freshman number of 38.7%. While Pressey has a smooth stroke in the mid-range area, his 2-pt percentage is hurt by his play amongst bigs. Pressey takes a lot of difficult shots inside thanks to his shortcomings in the height department. Instead of using a classic floater, Pressey ends up in tough spots where he is 10 feet away from the hoop and trying to push the ball to the rim with a defender on his inside. He is a crafty guy and a great athlete, but he isn't very explosive. Not in a Nate Robinson kind of way where you are going to see him dunking. He's more along the lines of a DJ Augustin type athlete. He's going to have to bulk up quite a bit so he can deal with contact and develop a more reliable floater. I know the floater should be no problem for a guy with his touch, he just needs to do a better job of positioning himself inside.
In transition, Pressey normally has no problem finishing. When he gets rolling to the basket, he is way too quick for defenders to be able to set their feet and draw a charge or block his shot without fouling. Most of his free throw attempts come off these situations. Pressey's passing is also a big factor here as he is one of the best at delivering good passes to his teammates on the run. Pressey is great in transition and has had plenty of practice in these situations at Missouri.
Shooting wise, I think he is better than the numbers say he was. He has deep range and is able to pull up from anywhere on the court. He can shoot off the dribble and create enough space to shoot the ball. He reminds me a bit of Isaiah Thomas from Washington with the way he can size up his defenders from the top of the key or shoot off the pick and roll. Pressey was shooting 28% from 3-pt range last year on February 15th, but finished the season on a 22-40 hot streak where he displayed complete confidence in his shot.
Another thing to note is Pressey's crossover which is absolutely ridiculous. Its a video game crossover that can take him 5 feet in any direction in a heartbeat. Overall, he does a great job changing directions and he completely dices up defenses. As I said before, Pressey looks unstoppable a lot of times in the college game. In terms of everything he can control, not much more can be asked of him.
Before we touch on his defense, we have to acknowledge his size now. Pressey was measured at 6 ft tall in shoes with just a 6'3'' wingspan at the 2012 Deron Williams Skills Camp. The year before, he was under 6 feet with just a 6'1 wingspan. The numbers can vary a bit. Either way he is really undersized, but a 6'1 wingspan is particularly troublesome. Trey Burke is around the same height as Pressey, but Burke has a better frame and a few extra inches on his wingspan. That is the reason why Burke is considered a better prospect.
Nobody can say Pressey doesn't lay it all on the line. There are countless hustle pics off Pressey on Google Images
In terms of lateral quickness, Pressey has it and he's very agile to boot. Defensively, he really turned it up at the end of the year and played good defense against the likes of Pierre Jackson, Myck Kabongo, and Tyshawn Taylor. He has great closing speed, defends out to halfcourt, and does a good job closing passing lanes and getting steals. Pressey isn't a gambler perse, but can bait the opposition into throwing passes. He does a great job chasing his man around screens and getting interceptions there. He can be bullied and shot over, but Pressey has plenty of heart and pride on defense. Too much to be a complete non-factor.
I doubted Isaiah Thomas last year who had similar measurables last year and he has since proven me wrong. I'm still not sure how good of a player Thomas really is as he put up those numbers of the Kings and I didn't get a chance to watch him much, but he definitely is an NBA player. And I can say with certainty that Pressey as a sophomore was a better played than Thomas was as a senior in college. Pressey has always been a natural point guard while Thomas was much more of a scoring guard until the second half of his senior year.
One thing Thomas did well that Pressey can mimic is the pick and roll game. Thomas had the deep jumper to keep defenses honest as well and similarly used screens to get into the lane. They both show a lot of heart, character, and love for the game. You can never count out players with the kind of work ethics they possess. One area where Thomas has the advantage is his build, where he is a bit stronger. Thomas was a better finisher at the rim because of that and slightly better explosiveness. Still, Thomas never ran the point like Pressey can.
Pressey is the kind of player a general manager or coach can fall in love with. A guy who can make a coach feel that despite his size, he can be their point guard and allow the coach to have complete faith in his decision making. He will have detractors that say he isn't worth even a late first round pick, but there will be a at least a few that will look for him in the first round. I'll admit, I could probably be swooned over by Pressey in interviews and group scrimmages. He's been said to be the best point guard at all the camps he's played in, but still doesn't get as much attention due to his size. With a potential player of the year campaign on the horizon, the topic of his size will continue to be the biggest component that needs to be figured out in his transition to the NBA. He has everything else working for him.