Height: 6'5''
Weight: 180
Bday: 8/26/1990
Team: North Carolina State
Class of 2014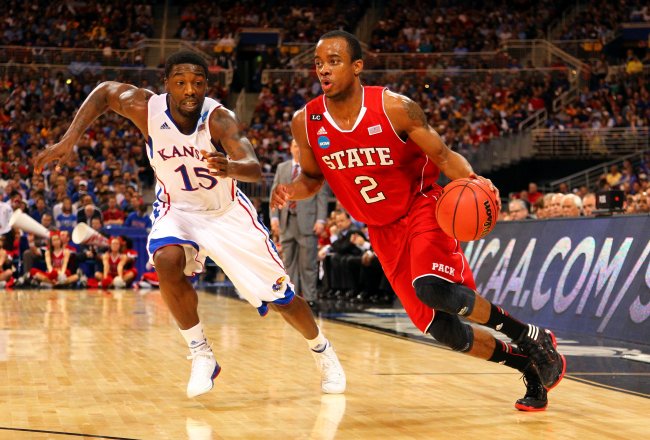 Lorenzo Brown made steady improvements to his game last year, partly due to Ryan Harrow's transfer and Mark Gottfried's trust in him to call him the Wolfpack's starting point guard from day one. Lorenzo Brown came into NC State in the same recruiting class as Harrow, another prized point guard recruit, but he was supposed to show up to Raleigh a year earlier. However, grades forced him to attend a year at prep school. Him and Harrow shared point guard duties and both had their moments, but ended up going separate paths. Both paths could cross again as the two of them are potential first round picks in the 2013 draft.
This year, Lorenzo Brown is joined by an excellent recruiting class, including Rodney Purvis, and a great returning core including Richard Howell, CJ Leslie, and Scott Wood. After making the tournament in the first time in 5 years, they now look to be one of, if not
the
favorite in the ACC.
Brown will have a ton of talent around him, but also a lot of expectations. No longer are they going to sneak up on anybody. His role may also be a little different. With graduate student Alex Johnson gone and Rodney Purvis seemingly taking his place in the lineup, Brown is going to be asked to act even more like a point guard and less like a scoring guard.
Brown has shown plenty of potential in doing that and has improved greatly. He came to North Carolina State as a combo guard whose career could go either way - shooting guard or point guard. Fortunately for his NBA stock, point guard is looking like a good bet for him now. He went from 5 assists per 40 minute last year to over 7 his sophomore season.
As a point guard, Brown exhibits great passing skills. He is able to get into the lane without a problem and does an excellent job setting up his teammates. When he drives, he has a pass first mind set and is very creative at delivering the ball. Brown doesn't simply kick the ball out to shooters, Brown likes to drive and dish down low to set up easy shots. He passes it into the post, finds cutters, and sets up teammates for good looks in the mid-range area.
Brown is his best at full speed. When he is asked to bring the ball up, he loves to get a running start and be on the attack before he even crosses halfcourt. When Brown gets you back pedaling, you will be hard pressed to stop him. Brown also likes to get a head start on his defender because he does struggle at times when he is pressed. His handle, while very crafty, tends to be lose. He does get the ball stolen cleanly from him at times when he has a defender at his hip pocket.
Brown's ball handling ability overall though, is what defines him as a player. his crossover allows him to change directions with ease. He is a natural dribbling the ball with either hand and his crossover is effortless yet extremely effective. He uses it all the time and it never fails to create space. He loves to use it to get in the mid-range area where he will look for a teammate first, but does have a solid mid-range game for himself to fall back on. His combination of ball fakes, hesitations, and effectiveness of his crossover make him very hard to stay in front of once he gets going. His ball handling ability allows him to virtually get where he wants on the court. He has improved his pull up jumper since his freshman season, resulting in an increased shooting percentage from 41% to 45%. He also has a very pretty floater that he can shooter of any ACC guard due to his elite size. Thanks to his size, Brown also can use his body to shield off defenders and he knows how to do this well. His long strides are also a plus.
Brown is also a bit of a throwback in the sense that he will take advantage of his size by posting up smaller defenders. He generally looks to pass out of these situations, but has flashed a turnaround jumper as well. Some of the things he does offensively remind me of Andre Miller.
Like Miller as shown late in his career, he can play off ball. Brown has a history of playing off the basketball and it shows. He does a great job getting open and also plays in a well coached NC State offense. He is great running around screens, due to his fluidness, slim frame, and terrific top end speed. He has a great feel off the ball - cutting to the hoop when the opportunity arises.
In transition, Brown can take it all the way to tthe hoop without anyone being able to stop him. I think its hard to understand his speed since he is a taller guy, but he really gets from end to end in a hurry.
Physically, Brown has excellent size and I believe he is a legit 6'5''. He was noticeably bigger than most PGs and SGs in the ACC. His frame right now is slender. Speed wise, he is very good at full speed. He has a long, quick first step and his quickness is enhanced by his deception and ball skills. His lateral quickness suffers on the defensive end. Brown isn't explosive at the hoop, but will finish with dunks from time to time. He isn't terrible at finishing with contact, but strength is definitely something he needs to improve.
Brown has just about everything needed to be a point guard, but the majority of the questions about his game still center around whether or not he can be a point guard full time. Some believe he is just a really good ball handler who can pass, but does not exhibit the kind of intangibles needed. To me, he does have some AAU characteristics to his game, but I think he generally does a good job of picking his spots, playing under control, and making his teammates better. He does need to do a lot better job at control the tempo of games, so they don't blow 20 points leads like they did last year.
The things I am more worried about his his finesse game and ability to deal with a defender up in his face. Brown does a good job avoiding these situations, but pro scouting won't fail to capitalize on his loose handles. In college, he uses ball screens to initially get him open and doesn't bring the ball up regularly. He also likes to reset himself by taking a few steps back in order to separate from the defender. In the NBA, he may benefit from the lapse defense, but he will initially have to prove he can handle to pressure. Right now, that may be the biggest thing holding him back as a point guard. His intangibles are OK. He has a good feel for the game and makes his teammates better. He stays interested in the game and shows some leadership abilities. I dont generally like a point guard to fail to qualify for college academically, but it is what it is. Its something to be considered. Also, Id like to see him in more pick and roll opportunities. We know he can come of screens very well without the ball, but NC State doesn't do enough on ball screens. To be honest, most of the time Brown doesn't need them but in order to be an NBA point guard you have to excel in the pick and roll game. Brown's game should translate, but Gottfried's offense is more based around motion and cuts.
His finesse play is more worrisome on the defense end. Offensively, Id like to see him be stronger and more explosive at the rim, but his floater and passing ability make it so he can get around it. Defensively though, he treats screens like bombs and stays far away from them. Brown creates way too much work for himself on defense, as he refuses to fight through screens and instead tries to rely on his speed to run around everything. He switches on screens whenever he can. Brown's refusal to battle through contact will be an absolute death sentence if he continues to keep it up. He needs to add weight to his frame, but even so, Brown shouldn't be avoiding contact like he is in the college game.
His finesse style carries over into passiveness on the defensive end as well. Brown can be a good defender for stretches - I watched him give Austin Rivers a hard time for an entire half - but for the most part, he is very easy to drive past. He doesn't slide his feet well, a result of him most likely being able to get away with depending on his pure speed in his younger days. At a legit 6'5'', Brown has to put some effort in staying lo. Its not the easiest thing for a man of his size to do, but it is necessary. His size does come in handy in contesting shots and he also has good length. He is able to guard both backcourt positions.
Shooting wise, Brown improved his 3-pt % from 30% to 35%. He is good with his feet set and is getting more comfortable with his step back jumper. He isn't fully comfortable shooting off the dribble unless he has time to gather himself. When he does, he shows nice touch mid-range. I question his range out to the NBA 3-pt line and doubt he will be much more than a "keep you honest" kind of shooter from 3. His free throw percentage sits in the low 70s.
Overall, Brown has one best skill to physical attribute combinations out of all the point guard eligible to be drafted. Playing for a top 10 team this year, there will be a spotlight on him and very hard criticism on how he runs a team. He has plenty of talent around him, so he will be expected to act like a point guard and run the team, making sure everyone gets their touches. I want to see Brown bring the ball up more this year and deal with pressure. He needs to continue to improve his shooting and show a new found desire on defense. Proof of toughness would be welcomed. Most of all, Brown should be the leader of this NC State team.
A good showing this year will be good enough to get him in the first round, but his ceiling can be as high as the lottery. Besides Myck Kabongo, I am not sure there is a point guard in this draft with more potential. He likely comes out this season because he is going to be 22 this month. His age does cause some concerns - I would be much more willing to consider him a lottery guy if he were only 20. Still, Brown is a very intriguing point guard to monitor this year. You will be hearing plenty more from him.