Height: 6'1''
Weight: 185lbs
Wingspan: 6'6''
Bday: 6/26/1991
Team: Nevada
Class of 2014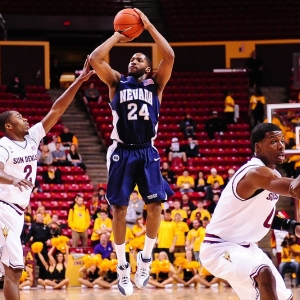 When Deonte Burton came to Nevada, he had never played the point guard position before. Burton was more of a small shooting guard who loved to shoot the ball, but he didn't have the selfish label. Late in the recruiting process, UCLA ended up trying to get him, but Burton remained loyal to Nevada who had been interested from the beginning. Nevada has turned out to be a lot better situation for him, not only allowing him to play his freshman year, but he had the opportunity to learn how to play point guard on the fly.
Armon Johnson ended up declaring for the NBA draft, leaving a vacant opening at the point guard position. Burton was asked to fill the job and did so admirably. He had a great freshman season, being named the WAC's freshman of the year. As an undersized scoring guard, his transition and success right away at the point guard position drew the attention of NBA scouts.
Now, Burton hasn't been an overnight success story running the point guard. With Nevada's offense, he hasn't been asked to be much of a playmaker yet. Nevada had Dario Hunt, Olek Cyzy, and Malik Story all capable of creating their own shots. Burton was more in charge of bringing the ball up the court and getting his team into the offense. Coach David Carter didn't place a ton of pressure on him. For the most part, Burton was still asked to do what he does best - score.
Burton was known as a volume shooter in high school and you can still see the shooting guard in him when he plays. Too many times Burton brings the ball up and fires a deep 3-pt shot right away. Burton gets excellent lift on his jumper, allowing him to shoot over the bigger defenders he saw as a SG, but has a habit of shooting on his way down. His long release and extended movement from his legs creates a lot of moving parts, but there is a large enough sample size to call Burton a good shooter. He shot 35.5% from 3 his freshman year and upped his percentage to 37% this past season while taking over 5 threes per 40 minutes. He also improved his FT% by 5%, shooting a respective 80% in his sophomore year. Something that is surprising is that Burton is a very good shooter under pressure. Burton takes plenty of questionable shots that are contested, but he has apparently adjusted to shooting with a hand in his face fairly well.
Burton's no fear attitude and confidence in his jumper makes him the scorer he is right now. His three point shot sets up the rest of his offense, as the defense knows that he will pop a jumper at any time - from anywhere on the court. Burton takes advantage of this, showing a nice little ball fake and stutter step, using it to get into the lane. Burton has the strong body and explosiveness to do damage inside, but at this moment he is still a work in progress.
Burton is a very solidily put together player with natural athletic ability. He is on the small end and lacks the elite athleticism to render that point obsolete. Still, he is a good enough athlete that he can survive. He just needs to improve his mid-range game. If I was to give Burton any advice, Id recommend him model his game after former Hofstra star, Charles Jenkins, who is now in the NBA.
Right now, Burton has no in-between game. He take it hard into the lane and has to settle for difficult shots through contact. Burton can finish "and-one" plays at the rim as he has tons of explosion packed into his frame, but awkward shots from the foul line while absorbing contact should be avoided. Burton has a decent crossover and shows some hesitation moves, but has been unable to put it all together to form a mid-range game. Part of the problem does fall on his shooting form. Burton needs to get his feet set in order to get a good shot off and his current form makes it hard to do off the dribble in the paint. Off the dribble in transition is a little different as Burton is able to slow up and set his feet with a crossover to gain space. But in traffic, that is not feasible.
Burton is a steady ball handler, staying low to the ground and protecting the body with his mature frame. He has a propensity to drive the ball to the left, even though he is right handed. He seems to get more burst with his left hand. If Burton continues to do this, he needs to work on finishing with his left hand as well. For a guy that goes to the left as often as he does, he costs himself some baskets trying to finish with his right hand.
As a point guard, Burton is still a work in progress. Burton was not aggressive about bringing the ball up the court each time and being a leader. He did play on a veteran team, but I would have liked to see him bring the ball up more. Too many times the opposition covered Burton on the in-bounds and Burton made no effort to come back for the ball. He just ran up the court and assumed the role of shooting guard. When Burton does bring it up, he will either look to score in transition right away or initiate the offense at the top of the key by simply passing it off to somebody else. Rarely does Burton create much for his teammates, but Nevada's offense wasn't the best for that.
Burton would get chances on the pick and roll where he shows the ability to turn the corner. He also showed the ability to dribble himself into double teams and struggled to find an open teammate when being crowded by taller defenders. Burton needs to make quicker decision off the pick and roll due to his size and also needs to see the court better. Burton has to keep his head up and find open teammates. Right now, Burton makes the easy passes but can't see secondary and tertiary options.
Burton does take a lot of questionable shots, but overall he is a pretty unselfish player. Burton is a very streaky scorer who will go off for 8 points in a row and then fade into the background for the rest of the half. He can force some jumpshots, but they are shots he can make. When it comes to driving, Burton has improved since his freshman year in terms of playing more under control.
Defensively, Burton shows the strength and energy to become a decent defender. He has solid length that should make him adequate in terms of point guards, perhaps even ideal considering his body type. Burton is fundamentally sound, staying low to the ground and always making sure to have his hands up. His lateral quickness leaves something to be desired, but since his strength is not an issue, Burton doesnt have to worry about losing anymore quickness in order to add weight. Burton hasn't impressed with his ability to rebound, but Nevada did employ a fair amountof zone defense in the games I watched. His quickness won't ever allow him to be a big playmaker defensively, but he can be a solid defender who stays in his lane.
To me, Burton has a long way to go as a prospect. He is being looked at as a potential second rounder this year, but he has a lot to improve upon to get there. With Cyzy and Hunt gone, the Nevada offense will become more perimeter oriented and Burton will finally be asked to be a playmaker. That is a good thing. The problem is Burton at the moment is still an undersize combo guard (tweener) without elite athleticism, point guard skills, feel for the game, or elite scoring ability. He is a solid player, but his transition to point guard has been overstated. He has been more of a point guard by title up to this point. This year we will see him pushed farther out of his comfort zone which can only be a good thing for him. He looks like an undrafted guy at the moment with his ceiling being a second rounder.