Height: 6'1''
Weight: 199lbs
Wingspan: 6'4''
BDay: 5/2/1991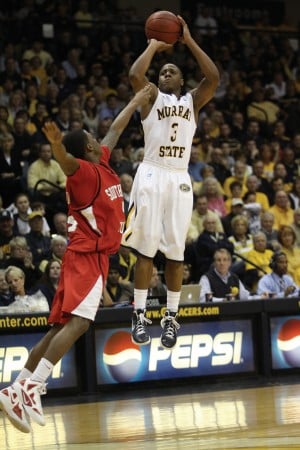 Team: Murray State
Class of 2013
Isaiah Canaan has been busy all summer, going from skill camp to skill camp and ending his summer tour at the Adidas Nations. While he received some negative reviews from scouts, just the fact that Canaan is in the position he is should be considered a Cinderella story.
Canaan dealth with hurricane Katrina first hand and ended up lightly recruited, choosing to head north and play for OVC member Murray State. At under 6 feet tall and not exceptionally athletic, Canaan is the type of player who can easily slip through the cracks of the big time schools. Falling to Murray State has turned out to be much more of a blessing than a curse for Canaan however.
For one, Canaan has been able to put the Racers on the map. They were already a competitive school, but with Canaan at the helm they have become a force to be reckon with - outlasting the entire NCAA in consecutive wins to start the season. Canaan's ultra-competitiveness, heart, and determination to prove everyone wrong has been the driving force behind the Racer's success.
Canaan is a point guard, but mainly in terms of bringing the ball up. When the ball is in hands though, make no mistake that he is looking to score. Canaan is an attacker. The defense always has to be aware of him as he can pull up from anywhere on the court or barrel his way into the lane.
The biggest and most translatable attribute of his game is definitely his shooting. He has a super quick shot and more than half of his shot attempts were from behind the arc. His range is unlimited and he is comfortable with shooting off the dribble or in spot up situations.
He does very well in pick and roll situations, something that he will also have a chance to do in the NBA. His confidence and aggressiveness forces you to be ready for a 3-pt attempt around picks, but Canaan also drives to the rim without hesitation. He is very good with both hands and has a good crossover to boot. His strong frame allows him to get into the lane and handle contact, although he still struggles finishing amongst the bigs.
His struggle to finish is a major concern that goes back to his small vertical stature. At only 6 feet and lacking vertical explosion, Canaan needs to find ways to aid his scoring around the rim. Right now he just isn't shifty or crafty enough. He takes too much contact since he can't move his body well enough and sees his shot blocked too many times.
While Canaan thrives in the pick and roll game, it is strictly due to his scoring prowess. The combination of his shooting, driving, and confidence is lethal at this level, but he rarely creates for teammates out of the set. Canaan has acknowledged this summer that he needs to do a better job changing speeds, as he was told by Deron Williams and Chris Paul, and that is certainly part of the problem. More so, though, is his mentality. Canaan has been a scorer all his life and has never been a pass first guy. Even at the Adidas Nations, where he was surrounded by talent, Canaan looked awful in the role of playmaker. He had 3 assists to 19 turnovers and from what I heard, the numbers didn't lie.
Having one of the worst camps out of all college players have put a damper on his first round buzz. It is looking more and more like Canaan is an undersized scorer who will have a real big jump to make if he wants to play point guard. There could be a role for a terrific shooter like Canaan who fights and plays with great confidence. Shooting is valued and when guys like Andrew Goudelock can make it, Canaan can as well.
Athletically, we know he is short. What he does offer is great strength - he has big calves and a strong upper body. He also has a decent wingspan that does help compensate for his height a bit. In terms of speed and quickness, Canaan is nothing special, but with his good ball handling skills, he is able to make quick and speedy moves. His crossover helps him change directions very quick and he doesn't get out of control as much as you would except. Canaan is an average leaper and his lateral quickness is average as well. Defensively, I do think he plays with good intensity and awareness. He can be a best when he wants to, but the lateral quickness does limit his effectiveness. He hasn't faced many big named point guards in college and the fact that he has struggled against good summer competition (many younger than him) is worrisome.
One more thing I should mention is his mid-range game, which has shown signs of being good. His pure scoring instincts are present here, but the lack of changing speeds presents him from consistently getting good looks from this range. At this point, Canaan really doesn't need a great mid-range game, but it will be important in the NBA.
Canaan can find a spot in the NBA. This summer has hurt him, but watching tape, I saw one of the best shooters in the country and a guy with a chip on his shoulder. He is a competitor, a winner, and someone who will continue to work hard for your team. He doesn't possess much upside, even if he miraculously gained point guard skills (which would put him in the Jameer Nelson range), but he could be a nice combination of an Andrew Goudelock and Charles Jenkins. Thats a high second round pick type, not a first rounder.