College hoops officially got underway tonight and while two marque games were canceled due to condensation, there was still plenty of hoops to be digested. The biggest game of the night was between Kentucky and Maryland - both teams supporting new looks, both with uniforms and players, and plenty of talent. The matchup to watch was Alex Len vs Nerlens Noel.
After watching a fair share of Noel in high school, I had let it known that I thought Noel was overrated and I had my concerns about him. Heading into this game, it looked like the perfect setup for Maryland's Alex Len to take advantage of Noel's reputation and dominate him in order to generate hype of his own. I predicted that Len would outplay him and end up being the story. Besides a former walk-on grabbing the headlines, that is exactly what happened.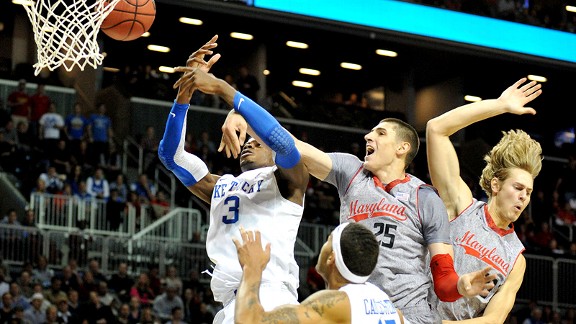 Noel started off the game with a little hook shot over Len, but quickly got into foul trouble. Len was noticeably bigger and stronger than last year, especially his lower body. His shoulders are still slim, but he was able to hold his position on the low block and go to work. He showed off a very nice offensive repertoire including face up jumpers, turnaround Js, reverse layups, and solid footwork while looking nothing like a 7 foot 2 player. On defense he still struggled to make his presence felt, but all in all, it was a terrific start of the season for Len.
Keep in mind, that Len had to sit out the first 10 games of last season and didn't even know the English language. The situation he was in is hard to imagine for a teenager in a completely new surrounding. Just getting adjusted to America was tough enough - much less succeed playing basketball. This year, his English is much better and that in itself is half the battle. His defense is still behind but it is hard to ask a guy to add 30 pounds, learn a new language, AND improve his defense all in the span of an offseason. Len's development is coming along just fine - he is no longer a stick figure.
As for Noel, after his opening bucket his offensive looks came few and far between. He sat out much of the first half after getting a quick bucket and blocked shot. He only had one more bucket the entire game and his 0-3 at the FT line resulted in him finishing the night with 4 points. Still, this Noel looked much more discipline than the high school one. He didn't look towards the refs constantly and gone are the days where he stands around the 3-pt line looking to drive the lane. No, Noel seems to have bought into the idea that he is a defensive anchor first and foremost. Its a good sign heading forward even if tonights game was subpar.
As for the other Kentucky freshman, they had their up and downs. Goodwin showed off his great first step and scoring instincts and finished with 16 points - 9 of them from the line. He is always in attack mode and looks like UK's go to player on offense. He was out of control at multiple points during the game though and Coach Cal will need to reign him in. Calipari has compared him to Tyreke Evans.
Poythress was second on the team in rebounding, but otherwise had an uneventful night. He battled foul trouble and only played 23 minutes. Also facing a battle was Ryan Harrow, who had been sick with the flu. He caught a lot of flack for his terrible play in only ten minutes tonight, but we will wait and see how he is moving forward. Certainly not a good start for him.
Kentucky's leading scorer was Kyle Wiltjer, who played with more confidence than he had a year ago. He knocked down 4 good looks from deep and also did a little bit in the post and off the dribble. He is a matchup problem for any big man at this level.
The comparison of Ryan Anderson has been mentioned for Wiltjer but I think Anderson was a better rebounder and post player. Wiltjer does more facing up and off the dribble at this stage. When I think of guys who play like Anderson, I think of Duke's Ryan Kelly who I happened to watch a bit of tonight against Georgia State.
Mason Plumlee also caught my eye in that game with his energy. Plumlee may have never expected to be playing his senior year at Duke, but he appears to want to make the most of it. He should be on a mission this season.