Height: 6'8.5''
Wingspan: 7'3''
Weight: 236lbs
Bday: 4/7/1992
Team: North Texas
Class of 2015
Apparently all Tony Mitchells are insane athletes
After being ruled academically ineligible at Missouri, Tony Mitchell was forced to sit out a season and a half before making his debut for North Texas on December 18th. Two days before on December 16th was the first time Mitchell was allowed to practice with his teammates. Needless to say, coming off a year and a half stint where the only organized hoops he played was at the U19 National Championships (where he failed to impress), nobody knew exactly what to expect from Mitchell. Scouts flocked to his games to get a look at this top 15 high school recruit and he ended the year joining Anthony Davis as the only freshman in the country to average a double-double.
Mitchell's game revolves around his elite physical abilities, so let's talk about that first. Mitchell has been measured with a 7'3'' wingspan while standing at 6'8.5'' and 236 pounds. He has a really solid build for a power forward and has a frame to put on more weight if he so chooses. Athletically, Mitchell is a rare species. He probably was the most athletic player in college last year, possessing one of the quickest and highest leaps I have seen at the college level.
At this point, his elite leaping ability is a big part of the player he is. Mitchell logged a majority of his minutes playing center last season and he didn't seem to mind. Although Mitchell shows some perimeter skills, he had no problem defending post player, anchoring the defense, rebounding the ball, setting screens, and making plays on offense with his back to the basket.
Yup, looks like a 7'3'' wingspan to me!
Although his post game is limited, he was such a force at North Texas compared to the rest of the players around him that he would constantly see either double teams or zone defenses. When Mitchell got the ball in the post, he did a good job of recognizing the double team and finding an open teammate. He doesn't hold onto the ball for long when it isn't necessary. Mitchell's passing have a lot of mustard behind them, but he can carelessly fling balls at times. Thanks to his big hands, Mitchell has gotten into a habit of extending the ball away from his body in one hand and doesn't always make his passes accurately. Overall though, Mitchell is a willing passer who has good vision. I'm surprised he only averaged 1.6 assists a game since he was doubled every time, but his team finished dead last in 3-pt% so that could explain it. Making that number even worse is the fact that Mitchell lead the conference shooting at a 44% clip. So yes, Mitchell had no shooters around him to space the floor.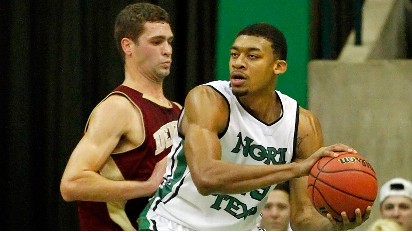 Mitchell looking to pass out of the post. Somewhere the double is coming. Note the chiseled physique.
When Mitchell didn't pass the ball, he showed the ability to both shoot and drive. Mitchell has an insanely quick first step, which allowed him to beat double teams before they even came into fruition at times. He doesn't have good dribbling skills, but is able to drive from behind the 3-pt line all the way to the cup at this level of basketball. He flashed a crossover move and the ability to switch hands while maintaining balance, but I didn't see it enough to say he is much more than a straight line driver. Obviously with Mitchell's athletic gifts, he can get away with being a less than perfect ball handler as he only needs a two dribbles to get to the hole and finish in dramatic fashion. Overall he does a great job getting to the hoop and drawing fouls. He shot 74% from the foul line on 5 attempts per game.
Mitchell also liked to freeze up his defender, giving the basket a long stare before pulling up for a jumpshot. Mitchell's release is slow and from the hip, but he gets good arc and rotation on the ball, making him a good 3-pt shooter. He tends to leave a lot of balls short, clanking off the rim, and also shows inconsistent form. He has shown a solid step back jumper and despite his slower release, has no problem getting shots off. Off the dribble is a different story as Mitchell doesn't show much of an ability to create quality mid-range jump shots. His spot up ability from mid-range is good, but if Mitchell wants to step his offensive game up, his mid-range game would be a nice start. For a big man, he has nice touch so he has plenty of potential in this area.
When double teams came on the perimeter, Mitchell had more trouble dealing with these than in the post. Valuing his perimeter touches since they came few and far between, Mitchell was more hesitant to give up the ball. He tried to make plays, but more times than not he would have the ball poked away from him once he tried to put it on the floor. Mitchell's loose dribble and lack off advanced ball handling skills showed here. His coordination on the wing comes into question if Mitchell is thinking about moving to the small forward position.
'Nuff said.
Also, Mitchell has no post moves away from the basket and rarely gets deep position on the block. Most of his post touches come from 15 feet away. He had some games where he was completely shutout and didn't attack the offense boards as much as he could have. While he led all freshman in defensive rebounding, he was tied for 48th amongst his peers when only looking at his stats on the offensive glass. Mitchell can create more easy buckets for himself if he plays with more intensity.
Speaking of intensity, Mitchell could use some more of it defensively as well. But that may be nitpicking as Mitchell does a lot of things well on this end of the court. He was North Texas's anchor at the center position, blocking any shot within reason and controlling the defensive glass. He was not afraid of contact, held his own position, and did a good job denying entry passes. He also was seen being a vocal leader on defense - communicating to the rest of his teammates. He makes blocks and steals that nobody else can make. He has the ability to make the LeBron James trailing blocks and block shots from the second level. His help side defense is wonderful. Also, Mitchell has great potential as a pick and roll defender in terms of forcing turnovers, but was content to just keep his man in front of him last year. More aggressiveness on defense would be a good thing.
Unfortunately, Mitchell didn't show much urgency getting up and down the court after rebounds, negating some of his athleticism. After each rebound, Mitchell seemed to travel at the same speed each time getting up the court on both ends of the ball. He always jogged back at a steady pace, not picking up the pace even if the ball ends up behind him. This needs to change, but it could be due to his conditioning level (but then again, have you seen his body? Mitchell is shredded.). Since he didn't get to practice up until December 16th, this is a logical explanation. Overall, Mitchell seems to care very much about the game and winning so I expect to see him become a more tenacious all around player this upcoming season.
As a rebounder, Mitchell has the potential to be one of the best in the game at the NBA level. He has huge hands, great timing, explosion, and all the athletic gifts you could ask for. He showed the ability to rebound out of his zone - actually he showed that if the ball was anywhere near him, nobody else was going to come close to touching it. Mitchell can easily get his head above the rim! When Mitchell rebounds, he does a good job finding the outlet, but he will start the break himself at times. Mitchell's court vision is shown yet again in these instances, as he looks more like a wing player in these situations than he does in the halfcourt setting.
Still, I think Mitchell projects more as a power forward and the fact that he has relished that role at North Texas is a good sign. Coach Johnny Jones (now at LSU) says that he is the most humble and unselfish superstar he has ever coached and that includes Gerald Wallace, Shaquille O'Neal, and Stanley Roberts. He raves about his character. The fact that he has handled his transfer to North Texas as well as he has is a great testament in itself. With his first full season of basketball coming up in years, it is scary what Tony Mitchell will be able to accomplish. Tony Benford (Buzz Williams' assistant) is the new head basketball coach and considering the work they've done on combo forward (Lazar Hayward, Jae Crowder, Jimmy Butler) it is exciting to see what he can do with such a pure talent. He is one guy that can up Mitchell's energy level, get him moving in transition, and improve his mid-range game. Benford is just what the doctor ordered.
Looking ahead to the draft, the sky is the limit for Mitchell. He should be a top 10 pick and could easily work his way into the top 5. I am a fan of his game and am looking forward to seeing more of him this season.